Trying to find work in the modern age economy ? Dreaming of working for one of titan Technologies Companies of today such as Amazon, Facebook, Microsoft or Google ? Then you need a modern CV to give yourself the best chances of success.
Careful, a modern CV does not mean fancy fonts, utilising crazy logos or designs to describe yourself or going completely out of the box to get recognised. NO! A modern CV is one filled with skills which are needed in our ever more technology centered universe.
The key to creating a modern CV is a professional looking document and concise structure that will allow recruiters to read your CV quickly and find those in demand skills they crave to find on any CV they can lay their hands on.
At CV Creator, we want to make sure your chance of success is as close to 100% as it can be, so we have outlined all the necessary steps and elements needed to make sure your CV is up to scratch.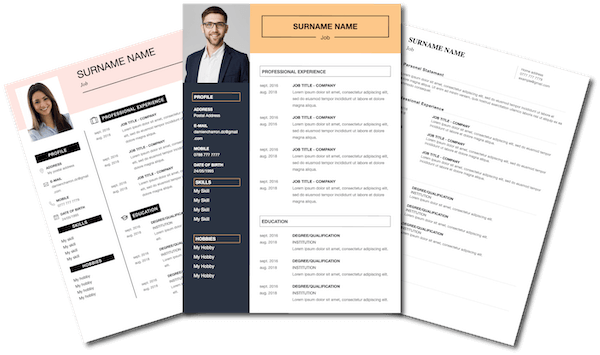 The Format and Layout of a Modern CV
When writing any CV, you always need to remember who your target market is. In this scenario, that person is either a manager, a recruiter or the HR department from the company you are applying to. The presentation of your CV is key to your success ratio.
Readers need to be able to read the broad lines of your CV in the space of seconds. This can be achieved by making sure your CV layout is kept clean and slick throughout. To achieve this, use a simple but effective font, space out your paragraphs correctly so it can be clearly determined where one piece of information ends and another begins.
Furthermore, use bullet points to outline your core skills. This will automatically draw the attention of the reader as bullet points are easy to read and will enable the recruiter to quickly determine if you are of interest. Do not feel the need to include fancy charts or designs to woo over any employer, the aim is to make the CV look simple and effective in its task of getting you an interview.
The length of your CV should be no greater than 2 A4 pages. Once more, it is important to keep in mind that time is a crucial element in these matters. You may have an excellent profile, however, if you take too long to demonstrate your capabilities, your chances will remain low. If you can, limit the length of your CV to 1 page only.
A few tips to create the perfect Modern CV
At CV Creator, we are obsessed with making sure our clients have all the necessary information they need to succeed. Here are a few extra tips that we have put together from previous applicants using a Modern CV that will set you apart from the rest.
When writing your personal statement, the make or break statement as we call it, make sure not to employ too many generic adjectives to determine your strengths. Terms such as 'motivated' and 'team worker' will be used by all candidates and show little originality. Make sure to include as much originality in any Modern CV Template you may use.
Additionally, creating a Modern CV online may mean it looks amazing but if the spelling is poor, you are very unlikely to get far. Spelling is crucial at this point so go the extra mile by asking friends to proofread or use online spelling assistant tools. If you are applying in the United Kingdom, make sure the spelling is accustomed for the UK, not the USA.
Make your Modern CV with CV Creator
Okay, you've made it this far, now is the time to actually create your Modern CV. With a plethora of CV templates to choose from, you are unlikely to be disappointed!