CV Format
You often hear the importance of the CV Format. How can a CV Format affect your chances of finding work? Let's find out.
Want to see more CV templates?

The format of your CV plays a crucial role. In 2021, most CV's are scanned through ATS software initially. It means only a CV which has proper formatting will glance at the eyes of the recruiter.
Said otherwise, the barrier which exists between your CV and success is the format. The best CV credentials may never reach the human resources desk manager.
In the following guide, we will go through all the key points to consider for your CV format in 2021:
CV Format applied in sections of your CV.
Templates for you to use with a good CV format.
CV Format tips and examples.
In a rush to build your CV? Don't have time to go through the entire blog and need a great CV in 5 minutes? Give our CV Creator a go. With more than 20 tailored CV's to choose from, you will be spoilt for choice.
So if you are short of time, you can create your CV here.
CV Format Framework
Before formatting the different sections of a CV, it is important to take a look at the smaller details within each CV. A format exists for every action you take on a CV. Do not lose sight of small details which can have a big effect.
Here are some of the key guidelines for the CV:
Use a font all managers and recruiters can read. Arial and Helvetica are widely recommended.
Ensure line spacing is either 1.0 or 1.15. Do not go more as you will struggle to complete a CV within one page.
Add a great CV header to kickstart your CV. Impress the reader with a slick CV header format.
Delineate sections clearly. Spacing between paragraphs is crucial for a good presentation.
Make sure you save your CV in Word format and PDF format.
Content is an essential element for a CV. Nevertheless, a CV must please the eye in order to be read. Not only will you please recruiters with a strong CV layout, you will increase your chances of passing the ATS Software scan.
After all, 80% of recruiters recommend using recruitment software to find human capital. Artificial Intelligence is here to stay, so make sure your CV meets this criteria. In 2021, the automation of all industries through technology is gathering pace. Recruitment is the same as the amount of hours spent to find a suitable candidate diminishes, thereby increasing efficiency.
CV Format Outline
A classic CV format should consist of the following sections:
Contact Details
Personal Profile
Core Skills
Professional Work Experience
Education
Hobbies, Interests and Extracurricular Achievements
As you can see, this is a simple format. Every candidate should have these sections filled with content, no matter the career progression. Let's break down each section and see how to apply the format correctly.
Contact Details
Placed within the CV header, personal details play a vital part in a CV. Without them, it is impossible a recruiter to contact you.
Here is what must feature:
First name and last name only (do not add middle names)
Professional Email Address
Professional Phone number
Current Job Occupation
Personal Address
QR Code (Access to LinkedIn profile)
This list is not exhaustive. Nonetheless, add personal details wisely. It can be to your disadvantage to add a personal address. Especially if your workplace is far and you are expected to work early hour shifts.
Personal Profile
The CV personal profile is a short paragraph at the beginning of your CV. It acts as a brief summary of your credentials and abilities. An employer can make a decision on an application just with a profile. It must contain the essence of the entire CV. Input all the keywords from the job ad and outline why you are best suited for the role.
A personal statement is easier to write if you have many years of experience. Use the experience to develop on key results achieved and provide specific numbers.
Just graduated? Don't feel like you have all the tools needed to write your profile just yet? In this scenario, focus on the goals you wish to achieve. Find a common point between your skills and how they can be applied in the firm.
As Dale Carnegie said, the best way to get someone to like you, is to satisfy their needs. Write your statement as if you were an employer. Ask yourself the type of skills a personal statement would require to get an interview.
Here is an example:
Punctual Chartered Property Surveyor part of the RICS standard. Capable of working to deadlines and meeting stringent regulatory demands. Applying strong organisational and analytical skills alongside 10 years of experience to help BDO grow its property surveying department.
Work Experience
Work experience is the main body of your CV. Ensure you show every attribute in this section relevant to the job advert.
Do this by:
Start the section with your current or most recent experience.
List your roles in reverse chronological order.
Add key tasks carried out for each role.
Provide tangible results and figures for each position. Numbers play a vital part.
Use bullet points throughout.
Apply this simple CV framework to get your CV on the right track.
Education
If you have completed a university degree such as a Bachelors or Masters, limit your CV education section to just that. Do not add your GCSE or A Levels results. Only if they are your highest level of qualification.
Format your CV education segment:
Degree Course Name (eg: Business Management with Marketing)
Year of Graduation (2018)
Name of University (London Metropolitan)
Grade Achieved ( First Class Honours (Distinction), Second Class Honours)
Pro tip: Place this section above your work experience section if you have just left university. Feel free to add your end of degree thesis title. Recruiters can often use this as a starting topic.
Core Skills
This section can be placed below your personal statement or work experience. Add it where it will have the greatest impact for your application. Skills are the backbone of every candidate. They are the commodity every employer seeks. Demonstrate you have the ones he needs most.
Here's how to list skills on your CV:
Approach this section using a top-down methodology.
List all the skills you have developed. Concentrate on the professional skills.
Find a job description you like.
Grab a pencil and read the description in a careful manner.
Look for all skills related keywords. They will be the basis for your CV.
Incorporate these skills throughout your CV in a practical manner.
Pro tip: The importance of skills cannot be underestimated. Keep in mind, an employer is not trying to befriend you. He wants someone who can complete the tasks in the best manner.
Final Section
If there is a particular area which has not been developed in your CV, this is the section. Skills developed in outside activities can be transferred to the workplace.
The most common final section can be:
Hobbies
Interests
Qualifications
Conferences
Postgraduate Theses
By following this CV format, you will have a perfect chronological CV ready to use. Even so, a CV format can be used for many types of CV.
CV Templates with great CV Format
Sometimes it's easier said than done. Especially when it comes down to formatting your CV. You add a small sentence at the end of one section, another part sees it format displaced. It can often look like a giant puzzle that can't get fixed. And frustrating. Just like deciding what to include in a suitcase, one item too many and you are back to square one.
However, every cloud has a silver lining. This is where CV Creator comes to the rescue. Our realtime deals with the CV format. No more need to worry about a misaligned CV format. Even better is that it only takes 10 minutes to create a winning CV with us.
Here are some of our favourite CV Templates for you to use.
Design CV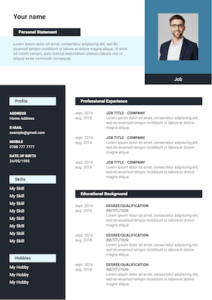 A great CV template with well distinguished sections. Its crisp contours and colours give the reader a bright and modern CV to look at. With a focus on work experience, it is more geared to the traditional corporate worker. Leverage your past experience and skills with this CV.
Student CV
The Student CV is an elegant yet simple design. With a main body in plain white, it gives loads of room to include all academic achievements. A smaller column on the left is added for all contact details and hobbies. As it is a student CV, the aim is to make the employer focus mostly on your academic results. Therefore, we recommend this CV template for all students in their final year of university.
CV Without Picture
It does what it says on the tin. A CV without a picture is an effective template. With the CV header placed centrally, the focus is on your details and personal statement. The section titles, placed on either side, add creativity to the design. This refreshing yet simple template is best suited for those with experience. In the United Kingdom, recruiters prefer a CV without a picture.
Standard CV
Perhaps one of the most mainstream CV's we have created thus far. The standard CV has everything going for it. It has two well-spaced columns. The main body is there to accommodate all work experience and academic results. On the right hand side, a sleek column is visible for personal details, skills and interests. There is also the option to customise the column colours. As one of the mainstream CV's on offer, this is best suited for those seeking an office-based role.
United Kingdom CV
Named as the United Kingdom CV, it truly is the best of british. This CV is a perfect representation of the expectations of a UK recruiter. It bears no picture and follows british tradition with its well polished design. Built upon a blank background, the sections are distinctive thanks to large font section titles. Simple is always best. If in doubt, this is the CV for you, no matter your current situation.
Professional CV
One of the more outgoing CV templates we have created to date. This CV is separated into 3 distinct sections. It features a standard column on the left and two main paragraph sections as the main body. Multiple matt colours are applied throughout to give clarity to the CV. It has a modern touch but remains professional at all times.
This CV is for corporates who have in mind senior roles they would like to apply for.
Word CV
Last but not least, the Word CV is the benchmark CV format for employers. Its simple but effective design is critically acclaimed. The specificity of this CV layout is the lack of columns or paragraphs. Moreover, the Word file type is something every recruiter looks for. An employer doesn't want to receive a CV in a format unknown to them.
Key Takeaways for CV Formatting
Now that you have all the tools to make a CV format fit for a king, here are the key points to remember:
Stick to the basics. A great CV format always respects the simple yet effective basics of a CV. This includes spacing, font, font size and cv header.
Choose the right CV template for you. Make the most of the CV format by choosing the right CV template to match your credentials  .
Focus on the keywords. Keywords play a vital role in any CV. Model your CV around the keywords for a greater impact.   
Still have questions unanswered on how to make a great CV format?
Not sure how to create the best CV format for your CV? Then please get in touch here. We would love to help you reach your dream career.