How to compose a great Chronological CV
Every candidacy is unique. Past experiences and roles create different skill sets and capabilities. This helps us differentiate ourselves from one another. Therefore, is it possible to use an identical CV structure?
The simple answer is yes!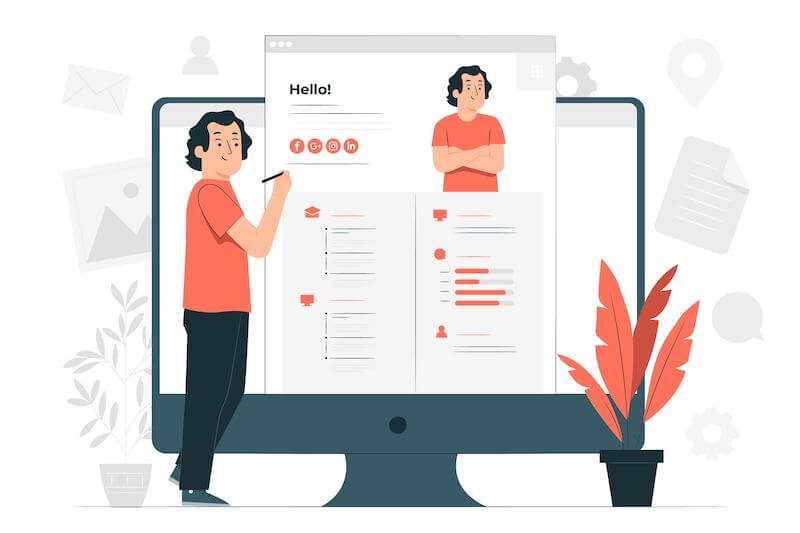 Type of CV structure for you
You see, whilst we may all be making applications for jobs, we aren't all at the same stage of our professional careers. A common CV structure underpins all successful applications from start to finish. Period. No matter your age or level of experience.
At the core of all success is a sound structure. You wouldn't build a house without making sure all 4 pillars are in place, would you? Therefore it is vital you use the correct CV structure for you. To create a successful chronological CV requires a sound base that can be used to build a great curriculum vitae.
Here is how you can get ahead of the crowd.
Don't have time to scroll through the entire blog? Need a great CV ready to go in 5 minutes? Use our CV Creator. With more than 20 professional CV templates to choose from, you will have a winning CV in no time.
Structuring your Chronological CV step by step
The most commonly used CV is the chronological CV. Widely regarded amongst recruiters as the benchmark for CV applications. This is the case since a recruiter can quickly analyse your most recent experiences in a heartbeat. The CV will focus on your main job experiences, the essence of every competent CV.
As an added bonus, it's also a time saver for recruitment managers . They regularly  scan it through any competent ATS software such as Pinpoint, Greenhouse or ClearCompany.
A chronological CV structure should feature the following elements:
The main header featuring all your contact details
CV Personal Statement presenting your goals and vision
Recent work experience with relevant description of roles occupied
Education with achieved grades and diplomas
Skills and Hobbies that will add character to your CV
Now that we have set out the perfect chronological CV structure, it's time to break it down and explain what it means for you.
The main chronological CV Header
At the very top of your CV, your contact details should be made abundantly clear. Make sure to feature your name, contact phone number and professional email address. Before any other element of your CV is read, your contact details must be as clear as day. Make sure to use a simple to read font. The font can be highlighted.
Pro tip: Feature your LinkedIn Profile and add a QR code. It will make sure your CV is easily readable for numerous recruiters.
Chronological CV Personal Statement
In the United Kingdom, the Personal statement on a CV can be the dealmaker or breaker. It gives management the chance to quickly evaluate your credentials. The purpose of this statement is to sell yourself. Why should an employer pick you? You want to demonstrate that you have clear goals and vision which align with the company.
Pro Tip: Ask a family relative or a close friend to help you define your key skill attributes for your CV and sculpt your vision. If not, you can also view our chronological CV Personal Profile for more inspiration.
Professional Work Experience
In a chronological CV, you start with your most recent job occupation and work backwards. Small details can make a big difference. Make sure to include the name of the company, job role and main tasks carried out. To really stand out, include your achievements with relevant numerical statistics. Always remember, the aim is to differentiate yourself from the crowd.
Pro Tip: Only use this type of CV structure if the job you are applying for is related to your prior job experience. If this is not the case, you can view our CV Design page.
Education and Completed Courses
If you have just graduated from University, the section above does not apply. Therefore, this section should replace the professional work experience. Make sure to use the same format for your studies.
If you have just left University following a Bachelor's, Masters or Phd Degree, the following format should be applied in your CV.
Name of University, Name of Course with optional pathway chosen (Grade Achieved)
List of Core Modules
Title of Dissertation thesis with final grade achieved
Pro Tip: The aim is to relate what you have achieved at school with your job application. Make sure it stands out throughout your CV.
Skills and Hobbies
Customise your skills paragraph to make sure it meets the requirements of the job you are seeking. You can do this by prioritising the top 3 skills required for the job. Demonstrate how you have developed these skills through your experiences.
Try to combine technical and soft skills if you can. For example, expert knowledge of databases such as Oracle and Microsoft, can be considered a technical skill. A soft skill, on the other hand, will not be defined. A soft skill can be the leadership of a team. Guiding them through a project with all relevant issues.
Hobbies are always placed at the bottom of your chronological CV. Be careful, they may be last but certainly not the least important. Hobbies help determine your personality. Don't underestimate their importance. Make sure to list at least 3 occupations you have outside work. An employer can decide if a CV is worthwhile based on your hobbies alone.
Types of Hobbies to include on your Chronological CV
The perfect CV is unique for each individual. A chronological CV structure may not be best suited for you. Do not try to force your background into a specific type.
Furthermore, studies have concluded the importance of hobbies on a CV. A two year study of 120 hiring managers found that approximately 51% of employers selected suitable candidates based on their hobbies.
The type of hobby you undertake must be in line with the job you are seeking. If you have a passion for playing chess, make sure you apply for strategic-thinking roles. Likewise, an individual practicing Yoga, can be seen as having great emotional control.
Key points of a Chronological CV Structure
Main points of a Chronological CV structure:
The chronological CV structure is best suited for those with professional work experience. It is not for candidates leaving University.
Be aware that the UK Chronological CV has a personal statement. Without it, an employer will not bother to read your CV
Hobbies can be a crucial differentiator. Make sure to align your hobbies with your professional aspirations.
Concise and clear CV structure is essential for a recruiter to scan your CV. Make it easy for them.
There we go, you are now all set to start your chronological CV and find your dream job.