Foreign languages are a well-prized asset. In the globalised world of today, foreign languages have become vital for almost all types of jobs. To have language skills on your CV is a basic demand.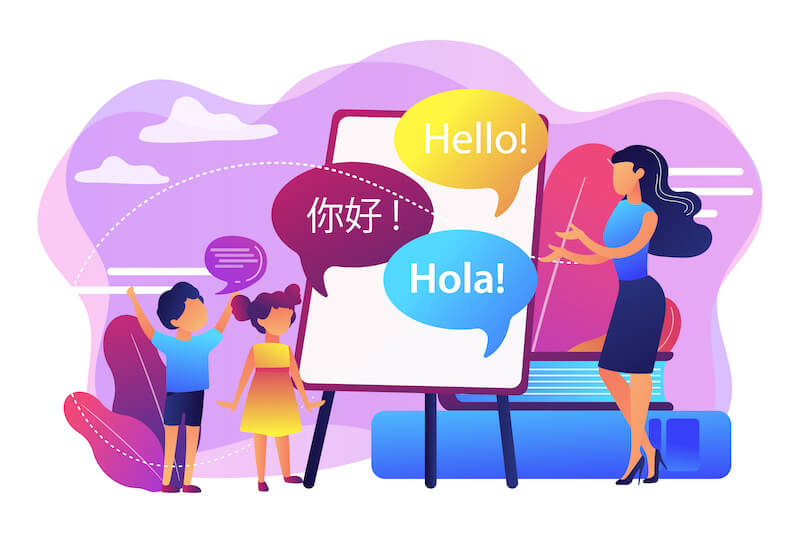 We will show you how to leverage your language skills onto your CV.
As the philosopher Wittgenstein once said, the limits of my language are the limits of my world. Why limit your options when you can learn a second language?
Languages can be the secret door to many triumphs in life.
In a rush to build your CV? Don't have time to go through the entire blog and need a great CV in 5 minutes? Give our CV Creator a go. With more than 20 tailored CV to choose from, you will be spoilt for choice.
So if you are short of time, you can make your CV here.
Where to list Languages Skills on your CV
The area to find the mastery of your language skills is often in the hobbies section. Therefore, at the bottom of your CV. As a key skill, languages should not be mixed with your hobbies. Instead, make a segment devoted to your CV language skills.
Here's how to place your language skills on your CV:
Build a segment below your work experience segment.
Use matching mastery level measures for all languages.
Begin the language skills section with your mother tongue.
How to grade your language mastery level:
0 – No Mastery at all. No knowledge at all of the language with very basic words only.
1 – Elementary Proficiency. Basic daily words learnt in the classroom.
2 – Limited Working Proficiency. You may have been abroad for a work task and picked up a few words along the way.
3 – Professional Working Mastery. You are able to speak in a foreign language for the industry in which you work.
4 – Full Professional Proficiency. Build-up of numerous years of practice within a personal and work setting.
5 – Native / Bilingual Mastery. The language which you were brought up with and most commonly used.
Said otherwise, there are 3 mains categories of language proficiency level:
Beginner: Elementary, basic
Intermediate: Competent
Advanced: Mother tongue, fluent, native, pro
One word of advice. Only use "mother tongue" on your CV for the main language you used growing up.
For example: You are originally from Italy. On your CV this would be shown as "Italian : Mother Tongue"
Pro tip: If you are bilingual, make sure to mention it clearly on your CV. In fact, a great place to put it is in your CV personal statement. Employers will promptly be impressed by this skill.
How to measure Language Skills proficiency on your CV?
At first, it seems easy to give yourself a relative measure of your linguistic skills. Yet, there is one small issue.
How do you determine what is a "proficient" level for any given language. One candidate may deem themselves at an intermediate level. Another may conclude they are adept, when in fact they are not.
To make things easier for candidates and employers alike, a common framework has been created.
Enter the Common European Framework of Reference for Languages (CEFR), an international standard for describing language skills, commonly used in Europe and the United Kingdom. It assigns language ability following a six-point scale, from A1 for learners, up to C2 for those who have mastered a language.
As a common framework, it streamlines the mastery of every candidate's language skill competences. Making it far less likely you show up to a job not suited for you.
How to apply CEFR in your Language Skills CV
Okay, now that we have covered the rating criteria for languages, it's time to see how it adds up on your CV. It's nice to be able to say that you can converse in Italian or understand a discussion in Portuguese, yet employers will only look at your valid scores.
CV Example:
French: Mother Tongue
Italian: Upper-Intermediate B2 Level
Greek: Beginner A1 Level
Rank your language skills from most proficient to least proficient. The employer should see your strengths first.
Granting these levels does not mean you have passed official tests. It provides a guideline on the level of mastery a recruiter can expect.
Providing the right level of proficiency for your CV
Whatever you do, don't just pick a level of proficiency at random.
By doing so, you are setting yourself up for failure. You will either underestimate your capabilities, decreasing your chances of employment. Or you will overestimate your linguistic levels, which could be considered lying. It is important to assess yourself in an honest manner.
If you are unable to obtain an official language certificate, your next option is to assess yourself.
In the United Kingdom, a great way to test your proficiency is to take an IELTS test. Completed in 2 hours, it gives an accurate picture of your capabilities.
A few questions you can ask yourself:
How important is this language for my job prospects?
Do I want it to be a vital component of my application?
Do I need to complete an official certificate?
For all other scenarios, a self-assessment test is enough. Just make sure you follow and respect official guidelines for marking criteria.
The IELTS test follows 4 main categories :
Listening
Reading
Writing
Speaking
Each category has a band score between 1 and 9. 1 is the lowest possible grade, 9 is the highest. THe higher the overall grade, the greater the level of proficiency.
The CEFR offers a complete self-assessment grid which allows any individual to grade themselves. The grading is conducted in the following manner:
3 main categories:
Understanding (Sub categories: Listening and Reading)
Speaking (Sub categories: Spoken Interaction and Spoken Production)
Writing (Sub category: Writing)
Once you have completed the self assessment test, you can determine your proficiency level. (A1, A2, B1, B2, C1,C2)
Key Points for Language Skills on your CV
When writing out your language skills segment, keep the following in mind:
Use an internationally recognised language proficiency framework.
Add a specific segment for your language proficiency skills.
Complete a self-assessment test if you are unable to take an official one.
Do not overestimate your language capabilities.
There we go. With a complete guide on your language proficiency skills, you will be in pole position to stand out in front of recruiters. If you have any further questions on your language skills CV, please contact us here. We would love to hear from you.