The structure of a CV is the backbone to a winning CV. To be effective in your job search, you need a great CV Structure. Read this post to find out to structure your CV to impress any recruiter.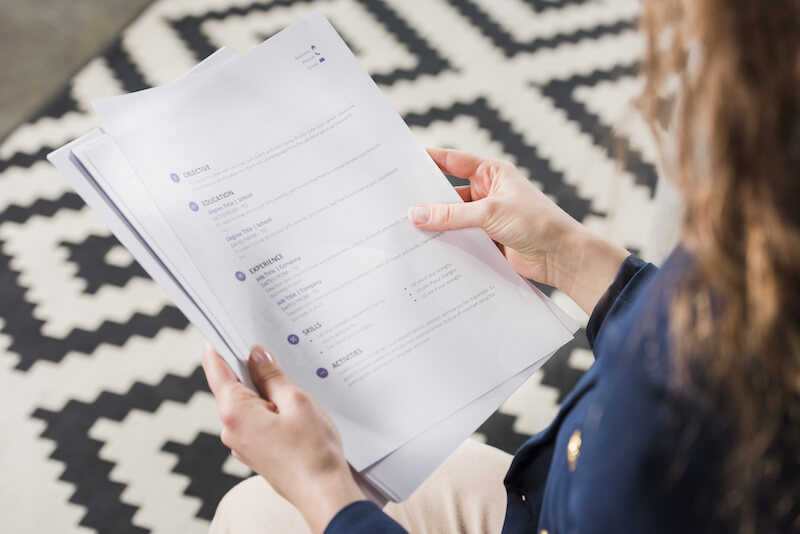 You have been looking for jobs for a while. It's frustrating. You have great work experience and skills, yet no recruiter has called back.
Seems like the structure of your CV needs a refresh.
You may have the best credentials in the world, but if you don't present them well, no one will believe you. Obviously, when you go on a first date, you make sure you are looking amazing. The same can be said for your CV!
A well structured CV is the key to unlock interviews. So if you want to have all the recruiters at your fingertips, read on.
This guide will show you:
What is a CV Structure?
Which is the right format to apply
What to include in your profile, work experience and skills
Education and Hobbies to mention in your CV
In a rush to build your CV? Don't have time to go through the entire blog and need a great CV in 5 minutes? Give our CV Creator a go. With more than 20 tailored CV's to choose from, you will be spoilt for choice.
So if you are short of time, you can create your CV here.
What is the CV Structure
A Curriculum Vitae can take many shapes and forms. At its core, a good structure is always prerequisite. It is the showpiece of your application. The aim is to make you the brightest star in the whole galaxy.
As a general framework, your CV structure will consist of:
Personal Details: Placed at the top of your CV in the header.
Personal Statement: A short and precise statement of your achievements and goals.
Work Experience: A list of your prior job roles and key tasks
Education/Skills: A list of your academic results. A section can be included for skills.
Hobbies/Interests: Key interests outside the work environment.
Cater the CV structure upon the preferences of hiring managers. They are the ones you are trying to please, not yourself. Their needs are at the forefront of every decision you make.
As hundreds of CV's are scanned every week, make your CV as easy to read as possible. Your CV is like a window shop. The more visible the window, the more likely customers will spot it.
Format for a CV Structure
The structure of a CV is widely debated. However, two main contenders stand out. Use a Word CV Template or a PDF CV Template for the best results. They come out on top for many reasons.
Here is why:
Ease of use. Microsoft and Adobe have spent years perfecting these formats. They are now mainstream and a hassle to be without.
Provides confidence. PDF documents do not contain any viruses. It gives confidence for the sender that a recipient will receive it. It will not end up in the spam folder. 
Edit with numerous choices. Both formats offer plenty of variety. Go to the Microsoft Templates for more inspiration.
What to Include Within CV Structure
CV Header and Font
Font
Before writing a single word, choose the right font for your CV. The simpler the better. It is not your writing font which you want to impress. The content will speak for itself. Professional fonts such as Arial and Calibri are great examples.
In addition, use black as the text color. Using another colour can be a risky move. Only step out of the traditional boundaries if asked by the recruiter.
Spacing
Ensure your spacing is clear. A CV will not attract the eye of a recruiter if it is full of long paragraphs. It makes the CV look hard and daunting to read. Keep it airy and concise by providing clear space between all sections. Spacing acts as an invisible full stop.
If spacing is insufficient, add bullet points to your CV. Bullet points cannot be included everywhere on your CV template. The best place to add them is in the biggest section of your CV. More often than not, this will be your work experience. If you are writing a Graduate CV, it will be your education.
CV Header
Probably the most important aspect of your CV. The header is the first element a recruiter will look at. Presentation needs to be perfect. If the reader is not impressed, they will not bother with the rest of it. Remember, 250 applications for each job advert are received on average in the UK.
A great way to kickstart your CV is to include your name with your current title. This applies if you want to continue working in the same industry. The reader will be able to relate to what he has read.
Your CV Header cannot be complete without the following elements:
Your Full Name. Do not mention any middle names. Only the name necessary for the application.
Your Contact Details. Add a professional email address and phone number. 76% of CV's with an unprofessional email get rejected immediately.
Location. This one is not compulsory and job dependent. If you are being asked to work very early hours, it can be to your benefit to add it. If not, do not mention it. 
Pro Tip: If you are short of space for your CV to fit in one A4 page, space out your details. Use the CV Header fully. Do not place all your details on one side of the CV.
CV Profile and Skills
Profile
The personal profile or personal statement is a crucial section. It is an introduction to your offer. Many people often call it the elevator pitch. Summarise in 5 sentences why a recruiter should consider you.
Spend just as much time on your personal statement as the rest of your CV. Think about it, if the recruiter does not like this paragraph, the rest will not matter. There is a clear structure to follow to get the best out of this section.
You can follow a full guide to build a great CV personal statement here.
If you are short of time, here are the key points to keep in mind:
Past Work Experience: Time spent working in prior roles.
Size of Company : Describe the sector and industry.
Relevant Knowledge: State the academic qualifications that make you viable.
Tangible Results Achieved: List all tangible results achieved in the workplace. For example, "helped increase operating margin by 17% with new product mix".
Vision for role and company: Give clear goals and aspirations. This shows you have done your homework. Should be centered around the keywords of the job advert.
Pro Tip: Do not include long phrases filled with adjectives. An employer wants practical examples, not adjectives to inflate your ego. They may sound great but they add little value to your CV.
Key Skills
Add key skills just below your personal statement. This section is not compulsory for all CV's. It can be a great way to boost your CV. Especially if your personal profile did not have the intended impact.
Start the section by underlining the keywords of the job advert. Review each skill within the keyword. Go through your personal skills and find the ones which match. You want the core skills to represent the skills the recruiter needs most. It is another tool to quickly give the reader an overview of what you can offer.
Ensure this section is tailored for every application. No job advert or recruiter is the same.
Work Experience
Okay, it's time for the business end of your CV. After completing your personal profile, outlining your career, it's time to put some meat on the bones.
As a general rule, follow the Chronological CV approach. List your most recent work experience first and work backwards.
If you are an experienced candidate, this will consist of paid roles within the company or as a consultant. For graduate candidates, it will focus around your academic achievements. Feel free to add work placements, even if they are unpaid.
Start with your most recent experience. Include as many details of relevant and recent roles. There is no point listing a work experience from 10 years ago if it does not add value.
Keep in mind, the purpose of this section is to demonstrate you have the skills they want. Even if the diamond is still rough, they will happily take it. Put yourself in their shoes and ask yourself if you would employ the person behind the CV. Add bullet points for every work experience added. Use active verbs to describe the tasks you had on a daily basis.
Fundamentally, a structure is the crucial element to a winning CV.
Pro Tip: Limit the number of work experiences to 4. Choose the most relevant ones. List them in reverse chronological order. Every word on your CV must have the potential to make an impact. Do not settle for quantity over quality.
Education in CV Structure
As the last major section of your CV, the same structure should be applied as for your work. Use the reverse chronology method. Place your most recent qualifications first and work backwards. Only start with an older qualification if it is the most relevant for the application.
For each academic result, ensure to add the university and course taken. Mention core modules and academic results. Add your dissertation thesis in this section. An employer can take great interest in the topic you have chosen.
Finally, if you have a long education section, be selective. Only include parts of your education which are relevant. Pick only results which will improve your chances, not to provide filler. The aim is to make an impact throughout.
Hobbies in CV Structure
Hobbies and interests are often shunned by applicants. Hobbies can be great to boost a CV lacking in experience. If you are a recent graduate or without experience, the hobbies section has a role to play.
Also, there is no better way to demonstrate other skills and interest than through hobbies. These can vary. From video blogging, starting a blog, creating a website or joining a sports team. They all add value.
Key Takeaway: Do not shy away from hobbies. What may seem uninteresting to your friends can be vital for an employer.
Key Takeaways for your CV Structure
Now that you have all the tools for a great CV structure, here are the key points:
Create a solid structure. Take sufficient time to build a great CV structure. It is the backbone of your CV, without one there will be no success possible.
Use a CV Structure to your advantage. The structure is entirely in your hands. Direct the reader to the most vital sections of your CV.
Make your personal statement impactful. Do not underestimate the importance of the personal statement. It is a great way to kickstart your CV and impress the reader.
Still have questions unanswered on how to build a great CV Structure?
Not sure how to impress the recruiters with your CV? Then please get in touch here. We would love to help you reach your dream career.