It's easy to get carried away when writing to list a bunch of skills. But are they really being effective at increasing your employment opportunities? Find out how to optimise your CV hard skills here.
Whether you are a Chef, Lawyer, Factory Worker, Athlete or even Gardener, you all have something in common. You all possess hard skills. How come? To conduct any job in a good manner requires a certain type of skills specific to that job, most often hard skills. They form an integral part of any well-structured CV.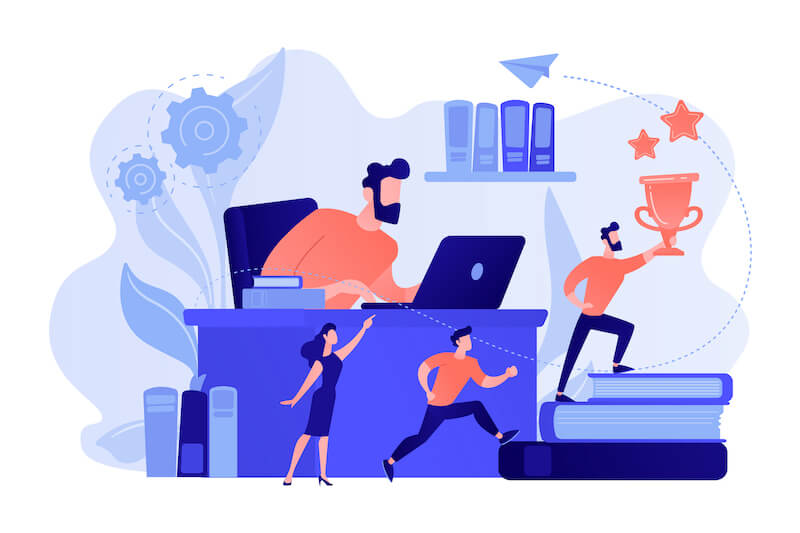 CV Hard Skills Mega Trends
In 2021, the type of hard skills required are evolving. It's important to keep up to date with current trends. We will take a look at how to decide which type of hard skills are necessary to list on your CV. Additionally, we will take a look at the mega trends of CV hard skills and how these can be opportunities for you.
Don't have time to read our blog in full? Just need a great CV ready in 5 minutes? Then make sure to try out our CV Creator. With customised CV's to fit every desire, you will have a winning CV in no time. To check them out, you can view and create your CV here.
Once you determine your set of hard skills, make sure to check out our specialised CV's.
What is a CV Hard Skill?
Hard skills and soft skills, what is the difference? A hard skill is one which can be easily transmitted to another individual. It can also be quantified, an aspect which a soft skill does not possess. Examples of hard skills to include on your CV can range from master's degree grading, your level of proficiency for a specific software to your lifeguard awards. This type of skill is attained whilst on the job or through formal education. An autodidact will have a hard time proving their hard skills.
Soft skills, on the other hands, are not uniform. Each individual will have a different level of CV soft skills gained from experience. It is a more subtle way to differentiate yourself. However, it can be harder to demonstrate in real terms. Examples of soft skills can include team spirit, versatility and communication.
As you can already see, hard skills on your CV are much simpler to prove than soft skills. Soft skills are intangible whilst CV hard skills are tangible.
Application of hard skills on CV
It's very simple. No hard skills, not a chance at successfully applying for a job. Hard skills are required for every type of job. A receptionist must know how to operate the hotel's operating software. A chef needs to know how to prepare a dish. Therefore, without a good understanding of your hard skills, you are going against the current.
Even though it has been proven that soft skills carry a far greater weight for employers, CV hard skills must not be put aside entirely. Hard skills provide the essential framework from which you can develop your soft skills. They are critical in their own right, and without them, you are unlikely to reach your full potential.
5 Hard Skills & Examples
Now for the most important part, the actual hard skills and examples you can apply in your CV.
We've chosen the most critical set of hard skills a candidate should possess.
 IT Skills
With the world entering a new-world economy, high-tech skills are at the forefront of hard skills to have in 2021. As the economy becomes completely digitalised, demand for IT CV hard skills is booming. The IT industry is seeing exponential growth as companies are required to update their operations for the economy of tomorrow. All sectors are impacted and present numerous opportunities. With companies such as Amazon, Tesla and Square seeing demand for their products explode, these skills are worth their weight in gold.
Cloud computing (Okta, AWS)
UI/UX design (VDesign)
Cybersecurity (Crowdstrike)
Machine learning (Nuro, Lemonade)
Artificial intelligence (Nvidia Corp, Salesforce.Com)
Virtual reality (Facebook)
Internet of things (Cisco, Huawei)
Analytical Skills
Analysing raw-data sets is a skill in high demand. We live in a world drowning in data. The key skill is how to make use of it. For example, a point-of-sale terminal in a busy supermarket will collect vast amounts of data. This requires an analytical mind to sieve through all data and come to certain conclusions. From simple data sets such as inventory requirements to operational data to prepare a flight for take off, they are in demand.
Data entry (Pulling data using SQL)
Data processing (Decision support)
Reporting
Mathematical skills
Research
Pro Tip: Learn SQL. It is used and applied everywhere. It is used by all the majors : Uber, Netflix, Facebook.. The list goes on. In 2021, it is the most in-demand data skill with more than 57% of data-related jobs requiring proficiency in SQL to get a position.
Technical Skills
Technical skills can be seen as a specialised version of soft and hard skills. They are the refinement of these skills. They require advanced training and education, which can consist of added time and resources. However, further down the line, they provide a greater opportunity for salary increases. CV Technical skills can range across a variety of industries. Science, Arts, Engineering Mathematics…
Coding and Programming
Analysis of Business Intelligence and Big Data
Software Proficiency ( iOS, Linux, Adobe)
Technical Writing (SEO, Reports)
Web development
According to Forbes, these are the fastest growing Technical Skills required for a winning CV.
IT Automation (Solarwinds)
Software Development Methodologies (DevOps)
Quantum Computing (Growing at annual CAGR of 71% through to 2021, an insane number.)
Connected Technologies
Machine Learning (Just like Quantum Computing, a similar CAGR of 70% is being experienced)
Project Management Skills
Project Management may seem vague but it is a critical component. As a company seeks to grow and achieve their targets, management is required to execute these goals. CV Management skills are a key criteria for numerous employers. Especially those growing exponentially.
Communication
Time management
Problem Solving
Organisational
Inventory Management
Project life cycle management
Pro tip: To kick start any project and execute properly requires vision. Several techniques exist to help a project manager along the way.
Work Breakdown Structure (WBS). This will help you organise your project into smaller tasks. These will be more manageable.
Gantt Chart. This visual project management technique can help you manage multiple projects simultaneously. You can plan and schedule entire projects.
Program Evaluation and Review Technique (PERT). This CV technique will help estimating timing tasks. A large part of project management is making sure you are on time.
Critical Path Method (CPM). A combination of all prior techniques. This tool obliges a project manager to plan every aspect right from the start. A list of all tasks, their durations, milestones and endpoint are all determined.
How to implement Hard Skills on your CV
As we have seen, there are many types of hard skills to choose from. It is easy to get overwhelmed. In order to help you make the right decisions, we will guide you in making the right CV hard skills appear on your curriculum vitae. To build a successful application requires prudent decision making. The hard skills you pick must be in relation to the type of career you are seeking.
To save you time and make your life easier, we have outlined a simple hard skills choosing process.
Choose the right Hard Skills for Your CV
Before you write anything on your personal CV, you need to take a look at the job description of the job you are seeking. The aim is to satisfy the needs of the employer, not impose your style.
A real life Quantum Computing job description:
Able to develop and maintain standard ABAP reports, ABAP objects, IDOCs, BAPIs, User-Exits, Smartforms, Data dictionary.
Previous experience of and working in SAP R/3 Enterprise 4.6 and 4.7, IS-Retail, MM and SD modules, ANSI SQL, SAP Basis.
A logical thinker to design system solutions to business problems.
Patient, curious and cautious enough to investigate and work out the right solution with the business.
Continuous improver on existing solutions without fear of refactoring to make reusable or perform better.
Multi-lingual in programming languages, databases and operating systems.
This example highlights the importance of specialised hard skills on your CV. To be able to meet the criteria set out by this employer, and join a Quantum Computing firm, proficiency in hard skills is a must.
Now, it is very likely you do not possess all those hard skills already. In order to demonstrate your understanding of the role, a simple process can be followed.
Highlight all the hard skills in the job description. List them. Make a list of your personal CV Hard skills. Determine which skills you already possess and can demonstrate your proficiency. Employers don't want you name dropping skills you don't have.
The key to making a CV stand out is to demonstrate your capabilities. For example, you claim to understand SQL. Explain for each skill your aptitudes and the length of time you have been harnessing them. By doing this, you are quantifying your skills and will make it easier for the employer to make a conclusion.
Where to List Hard Skills on your CV
Hard skills should be present throughout your CV. Not just in the hard skills CV section. Hard skills can be applied in numerous situations. A candidate must demonstrate they understand their own skills and how it can be cross-referenced. Whether you have a modern CV, classic CV or professional CV, the same rules apply.
For a United Kingdom CV, this means hard skills should feature in your personal statement, your work experience and your hobbies.
Hard skills are not dependent on age. This means that they are just as likely to feature on a Student CV or a Receptionist CV than an Aerospace CV.
Hard Skills will not be expected to be a main theme on these types of CV. However, hobbies are a great way to introduce important hard skills into your CV, regardless of your main occupation.
For example, you may be an accountant by training. In the hobbies part, you can list that you master 3D Graphic Imaging and Digital Mixing. These skills can provide great additional talking points in an interview. Employers want individuals who are seeking new skills in their spare time.
Key Points on Hard Skills for your CV
Hard skills are an essential tool to achieve success in any industry. Here's a recap of what you need to keep in mind when writing your CV.
Unlike soft skills, hard skills are easily quantifiable. They can be taught and only require time and perseverance. The best way to obtain them is through formal channels.
Hard Skills on a CV are like good habits, the more you repeat them, the better you become. If you are lacking them, don't worry, you only need to train.
Make sure the hard skills you input on your CV are demonstrated through examples. They should relate to the type of job you are seeking.
Okay, now you are fully equipped with all the tools you need to pick the perfect hard skills for your CV. Make sure to choose the ones which will have maximum impact.