Make a CV
↓ Choose a Template to make your CV ↓
What is a CV Maker?
A CV Maker is a software which allows you to create your very own CV in the space of minutes. Unlike creating a CV from scratch, whereby you need to determine the correct framework, structure and presentation to adopt, a CV Maker will take care of all of this for you.
It is very often an easy process of simply following a few steps by entering your details, most often broken down into 3 main categories, which will cover your academic achievements, work experience and hobbies. Once these categories have been completed with all the necessary requirements, you will be then be provided with a finished CV, matching all your needs and requirements to go and secure your dream job. The only task left is to go hand in your CV or apply online to the companies of your choice.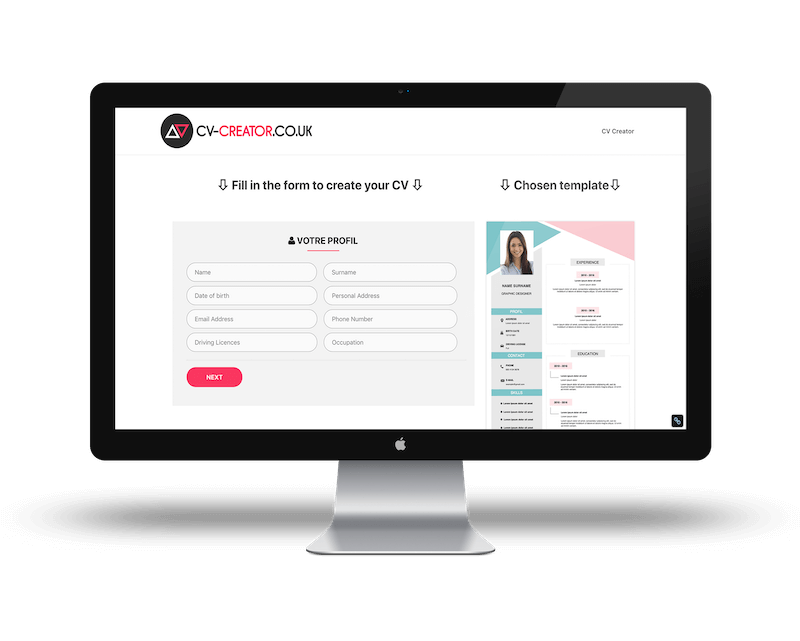 The Benefits of using a CV Maker
It is often argued by academics, the best way to perform at any task, is to start from scratch. To be fair, this is the case with most opportunities in life, especially for activities for which you have a passion. However, when it comes to creating your CV, in the world of technology that we live in today, whereby instant gratification is demanded from almost all millenials, creating a CV from scratch can be a tiresome and time consuming task. So why not leave it to professionals to structure your CV and let you focus on the contents?
A CV made entirely yourself from start to end, on average, takes about 3 to 4 hours. This may not seem like much, but why spend so much time on one task when it can be done for you in less than 15 minutes. Concurrently, when using a CV Maker to create your CV, you are most likely using a structure that will have been utilised by another individual, however the likelihood of two candidates applying for the same job at the same time is extremely slim.  
The main benefit of a CV Maker is the time you can save to concentrate on even more important tasks such as preparing for interviews, searching for jobs online or visiting recruitment agencies to match your profile to job descriptions. Furthermore, if you feel overwhelmed as to where to start when creating a CV, using a CV Maker is a great place to start as it will provide you with a robust structure to work with, instead of guessing along what may seem right or simply using gut instinct instead of proven techniques.
Should you pay to make a CV ?
The old adage of ' you get what you paid for' could definitely be deemed appropriate when considering whether to use a paid for service or a free one. Most free CV Makers will offer the most basic tools for you to construct a CV, very often without any regard for advice provided by professionals or people working in the recruitment industry. Candidates seeking to use a free service should be aware that such CV's cannot be deemed to up to scratch for the current requirements demanded by employers nor can they be updated to meet current trends.  
Those who do seek out a paid for CV Maker, can be assured in most cases, to have a quality CV provided once they entered their details. Also, it is very likely the case that a lot more variety will be available to the candidate, whereby in some scenarios, even offer a custom made version, to meet their needs. A good CV should come in at a price between £4-£5, which if you think about it, is not much at all if it lands you your dream job!