How to make an American CV
The best way to kickstart your American Dream is with a great American resume. Build a great American CV resume with the help of our professional advice.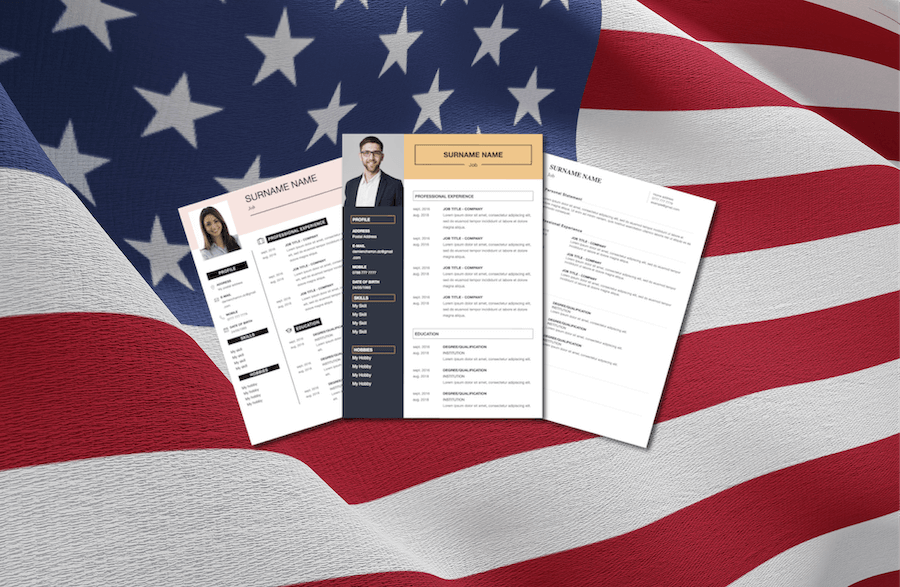 You've just seen a few job roles that you like. Or your friend reaches out to you saying his employer is hiring a lot of new talent. This can only mean one thing, you need a resume.
It can be easy to focus only on what needs to go in a resume. Nonetheless, many things should not feature as well.
By reading on, you will be able to read through all of our professional tips and advice. This will help you to create an American Resume. You will have a winning resume in minutes that will make every recruiter drool.
In a rush to build your CV? Don't have time to go through the entire blog and need a great CV in 5 minutes? Give our CV Creator a go. With more than 20 tailored CV's to choose from, you will be spoilt for choice.
So if you are short of time, you can create your CV here.
Information NOT to include in your American CV
It is easy for a CV builder site such as CV Creator to only list what must be included. As Antoine de Saint-Exupéry once said, "perfection is only achieved when there is nothing left to take away". The same can be said for your American CV to remain competitive and relevant.
Don't include all your contact details. US employers are fully aware of discriminatory laws enforced with racial inequality remaining a critical issue.
African Americans are twice as likely to be unemployed due to their name. Personal details such as date of birth, marital status or identification numbers should not feature.
Your exact address. Only state the city you live in without giving the exact street and door number where you reside.
References and referees. On a United Kingdom CV, references are only available upon request. In the USA, providing references can be seen as audacious. Let the hiring manager ask you for references during the recruitment process.
American CV Format
Usually limited to one A4 page, an American resume shares many similarities with a CV. The American resume is predominantly reverse-chronology based.
You start your resume with your most recent work experience and work your way backwards. The same strategy is applied for your education. Similar to the United Kingdom CV, a heading statement is provided, otherwise known as the personal statement. It is important to note many synonyms are used to define the same sections.
Layout
The most commonly used layout for an American Resume is the reverse chronological format. It focuses on your work experience more than any other format. Other possibilities include the functional resume and the hybrid format. Keep in mind your resume should not exceed one A4 page.
Pro tip: If you are unsure which layout is best for you, read our 3 American Resume formats page for more.
Contact Details
Put your contact details at the top of your resume. If you want to get a call back from recruiters, this is a necessity. Make sure to include your name, your professional email address and phone number.
LinkedIn is a very popular employment gateway in the USA. Update your LinkedIn profile to match your resume. Join a QRCode to allow them to view your profile without wasting time.
Pro Tip: If you join your LinkedIn profile to your resume, make sure it is up to date. Furthermore, if your profile is up to date on another website, join that link.
Heading Statement
Your heading statement, which features just after your contact details, should consist of a short paragraph explaining your career ambitions and vision.
The content of your heading statement will differ if you are an experienced corporate or a freshly graduated individual.
If you are an experienced corporate, your heading statement should feature your major achievements and skills developed.
If you are a fresh graduate, you are forward-looking. Your heading statement should explain your career goals and how you wish to attain them.
Whichever path you are on, remember to keep your personal statement short and concise. The maximum length of this paragraph should be no more than 4-5 phrases.
Work Experience
The most important segment of your American resume. All of your past work experience should be included here.
For example each job role occupied should feature these elements:
Job Title
Employment Dates
Company Name
List of daily tasks
Main achievements (ideally with numbers to validate)
Enlisting all these elements are essential just for an employer to look at your CV. If you want to go a step further, here a few more actions you can do:
Apply action verbs to describe your job responsibilities.
Use bullet points to list out the key tasks you have carried out.
Verify that you have enough resume keywords in your resume to make it through the ATS (Applicant Tracking Software.)
Customise your resume to the job specification.
Education
Probably the easiest section to fill out, education.
Place your latest degree first. Just like with work experience, start by listing your latest completed degree. This should include the name of the course, the study period and the name of the university.
Add the core modules and grades that you have obtained. An added bonus can be gained if you include your dissertation thesis. Employers may spot something they like just in a title.
The United States of America has a slightly different marking criteria. If you are from abroad, ensure your degree is well-stated and your exam results are given using an international grading system.
Skills and Hobbies
Enumerate the skills that you possess. Be careful, only enlists those which are required from the job specification and which you can demonstrate with results and facts.
Don't add skills which you do not have but are required. It is a dangerous step to make and an employer will easily find out.
Keep in mind the importance of all types of skills. Especially hard and soft skills. In Europe, employers are almost obsessed with your hard skills. In America, a balance between hard skills and soft skills is required.
Pro Tip: Don't assume an employer will be the same in Europe as in America. Companies operating in the same space can have different entry requirements. There is no one size fits all.
The last section of your resume is a great place to list any hobbies or extra interests you may have. Don't be afraid to list something which may seem irrelevant but is important for you.
Here is list of examples of hobbies, interests and experiences to include:
 Yearly participation in Ironman marathons
 Avid reader of books (more than 100 books per year)
 Successful Youtube channel with more than 100,000 views
 Created small online business generating $1,000 in revenue per month
 Travelled through the sahara on a dirty back
Keep in mind, the aim is to make your hobbies relatable to your job applications. You don't want to list all your interest but those that will be of interest.
American Resume Formatting
Content on its own is not enough to attract the eye of a recruitment manager. The format itself is just as important if you want your phone to start ringing.
A professional and clean looking format is the necessary framework to create a good American Resume.
Improve the format of your resume by:
Keep spacing between lines to 1-1.15.
Length of your resume should not exceed 1 A4 page.
Use a reverse chronological order layout to build your resume.
Ensure the spacing between sections is clear and concise.
Key points for your American CV Format
You may be worried considering the vocabulary is different for an American CV. In actual fact, it's very similar. You just need to make sure you follow the right framework.
Here are the key takeaways for you to note:
Structure your CV in the correct manner with the appropriate jargon. (Header, Contact details, Heading Statement, Professional Work Experience, Education, Skills and Hobbies).
Comply with job specification by only listing what is necessary.
Don't list more contact details other than your email and phone number.
Ensure you have resume keywords throughout your CV
If you apply all the tools we have enlisted for you, it is only a question of time before you are walking through the street of Silicon Valley or Wall Street.