Applying for professional positions in leading international organisations requires a professional CV template to match. In order to meet the requirement standard, here at CV Creator, we have set out the preferred format and structure, in connection with industry veterans, expected by the leading organisations.
What is a CV template for professionals?
It is a similar style to the traditional CV of a graduate candidate or those seeking a career change. Furthermore, a professional CV template will be mostly dependent on the experiences of the individual. Additionally, the type of organisations the candidate is applying to should be considered. These organisations have a very stringent job process. To conclude, it can often consist of numerous interviews and tasks before finally landing the job position.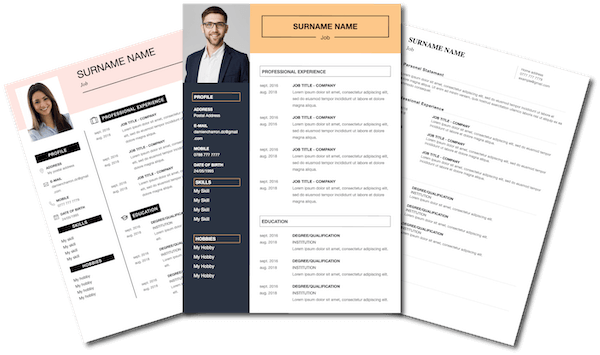 The Professional CV structure
1- Personal contact details
At the very top of your CV should be all you contact details, mobile and professional email address (of preference). Additionally, it depends on the type of role you are applying which may include being overseas. In this instance, it is strongly recommended to include your current location and availability to go abroad. 
2- Professional Profile
(equivalent to the Personal Statement)
A brief but concise summary of the candidates skills should be at the very top of the CV. This is essential to catch the attention of the employer by showcasing your industry background, experience and knowledge right from the beginning. Furthermore, it should be filled with precise and highly important information. In other words, to make sure that if the recruiter does not have time to read your CV template in full, your profile statement should be enough for him to make a decision. 
3- Core Competences
Human Resources departments and employers very often have skills as key words that they use to filter through CV's. Importantly, this is done to prioritise candidates who provide the right terminology on their application. Moreover, core skills are crucial and making them stand out is just as important. Any type of skill that you add on your list you should be able to demonstrate in a clear manner without hesitation should you reach the interview stage. Finally, make sure to study the keywords which are most sought after in the industry you are applying for.  In conclusion, this is a great way to get ahead and stand out.
4- Work Experience
The most important part of your professional CV template. This is the part of your CV where you should be as precise and detailed as you can be. Firstly, the message to give any recruiter is that you have fully understood your previous roles, the skills you have developed and those that are transferable to any future job role you may have. Secondly, every job title and company you have worked for should be in bold, and major achievements that were made whilst in the position. Thirdly, a list of responsibilities should also be provided for each job role taken to show key skills being used on a daily basis and people and networks that you are in continuous working liaison with. Finally, if you have the ability to quantify any achievements that have occurred whilst you were in the job position, make sure to make this visible as numbers don't lie and are a great way to impress employers in an instant! 
5- Education and Referees
At the very bottom of your CV is a brief paragraph on your education history and referees. Furthermore, contact details are to be provided in the event recruiters are interested in your profile.