Is the CV or the resume the best to use? Which one wins the battle? When is the right moment to apply a CV or a resume. Keep reading and let's find out!
The immortal battle of CV vs Resume. Is there a right or wrong or can they both be used? It depends where you are from. Some times you will hear more people use resumes or CV. A quick search online can leave you feeling quite confused at the differences. Nonetheless, the differences are quite small but significant.
Thankfully, we have put together a complete guide for you. This will help to decide which one is best for you.
What is a CV with examples.
What is a Resume with examples.
The differences between a CV and a Resume.
CV and Resume Tips to be a success.
Summary of key points.
In a rush to build your CV? Don't have time to go through the entire blog and need a great CV in 5 minutes? Give our CV Creator a go. With more than 20 tailored CV's to choose from, you will be spoilt for choice.
So if you are short of time, you can create your CV here.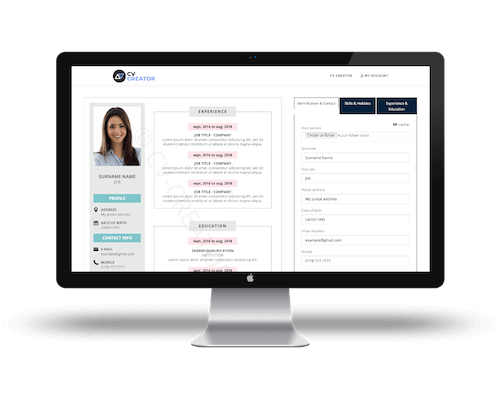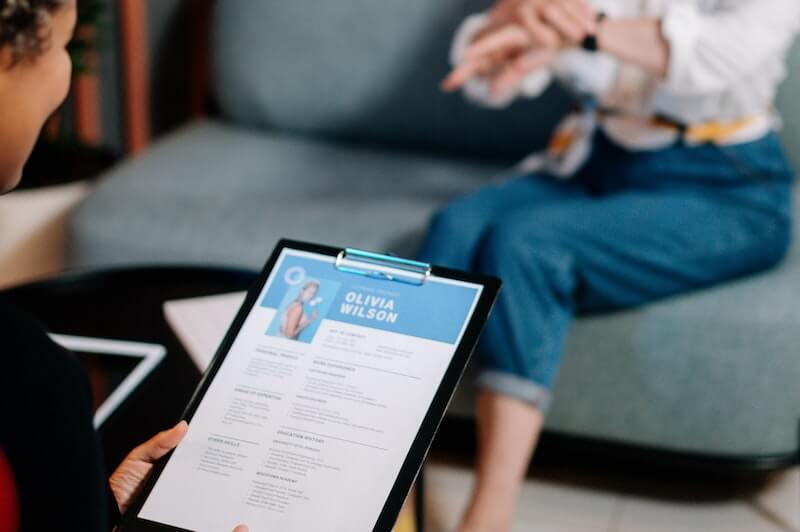 The Curriculum Vitae
What is it?
A Curriculum Vitae is a one page document. It highlights your best credentials for a job offer. It gives the reader a summary of your past experiences and proven skill set. The length of the CV can vary. This depends on the level of work experienced amassed by the applicant. It can also be dependent on the type of role. If it is an academic role, expect the CV to be much longer.
A CV is a personal window shop. It can provide extensive information on your past.
Pro Tip: Less known, a CV can also be called a CV summary. It is generally one to two pages in length. As its name suggests, it is a summarised version of a CV. Make sure you read a job advert carefully. Many recruiters ask for a summary before a proper CV.
What to Include and Example
A CV must include a CV header with your name and contact details. Sections to cover as well are work experience, competences, education and interests.
What's more, these sections must be fine tuned to the job description. They must respond to the keywords outlined in a job advert. The role of candidate is to meet the needs of an employer. Do not impose your style in a vacancy, you will not manage to get an interview.
Here is a classic CV template example. You can download it in both Word and PDF format.
The Resume
What is it?
A resume is a summary of your credentials. Just like a CV, this covers your education, work history and other achievements. In addition, a resume objective or career statement can be placed above your work experience.
Resumes are most commonly used in America. They are short and concise. It will rarely exceed two pages. Add bullet points throughout your resume to provide clarity.
What to include and Example
Just like its British cousin, a resume follows a simple but effective framework. All the core sections mentioned above must be included. There are, however, more sections you can add depending on your experience. This can cover personal achievements, certificates or interests.
What's more, the position of these sections within your resume can vary. It depends how you want to place them. For example, if you are a graduate, it makes more sense to place your education first. The work experience section is likely to be small.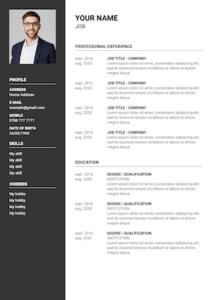 CV and Resume: What is the difference?
The main differences between a Curriculum Vitae and a resume are its length, its content and its application. This means they cannot always be used for the same purposes.
A resume is mainly skills based. It focuses on the skills of a person through personal achievements and work experience. Skills take a center role for the competitiveness of a resume.
A Curriculum Vitae, especially in America, is based on credentials. This is usually reserved for academics in the medical field. It requires an extensive list of all completed degrees, published papers and academic work experiences.
In the United Kingdom, a CV and a resume are basically the same thing. They just carry a different name. The purpose is the same for both. Create a one or two page document with all your best attributes. This includes your educational background, skills and achievements. The aim is to impress a recruiter enough to get a call back.
To highlight the common points, here are themes in both the CV and resume.
British and American CV layouts follow similar rules. They both start the document with a clear header to provide all contact details.
The format applied is equally similar. Both countries use a chronological CV for the most part. If not, a skills focused CV is used.
Sections in both types of CV are the same. They start with contact details, personal summary, work experience, education and interests.
Finally, the same rules are applied for the font used throughout the document.
However, this is where it gets more nuanced. In the USA, the CV personal statement is called a Resume summary. This summary is reserved for more experienced candidates. In the United Kingdom, every applicant must complete a CV personal statement. No matter your level of experience.
The same can be said for the skills section. In America, candidates are expected to make a list of their skills. In the UK, applicants explain why each skill is given.
If you are in a hurry, click to create an American CV or UK CV template.
CV and Resume Writing Tips
Whichever job application document you choose, here are a few tips to help along the way. Keep in mind, both a CV and a resume follow the same core. The job application process is there to meet the needs of a hiring manager. Your role it to meet those needs in the CV or Resume.  Show you are the perfect candidate.
Tailor your CV or resume to the job role. This is the most important rule to follow. Apply it for either CV type. Ensure sections you cover relate to the particular job or industry of choice. Highlight it though your work experience, education and other activities.
Every industry has specific requirements. For example, if you are seeking a job in finance, you may want to put your masters modules at the top of your CV. The most pertinent information must be placed first on your CV. As for a US resume, only include relevant experience to the finance role you are seeking. If in doubt, use the keywords given to you in the job description. They will guide the applicant in the right direction if he or she finds them. The recruiter will be impressed by those who tailor their application to keywords.
Use a CV template. A template can be a great way to save time . It also gives you a great structure. Often, candidates are eliminated before the recruiter has read the CV or resume. This happens because there is a lack of structure or formatting. Do not underestimate small details. They can be a big factor to the end result. Many applicants with great backgrounds never reach their potential.
Proofread before you send it. No matter the document you choose, proofread before sending. Spelling and grammar mistakes will get you eliminated you from the process. If the recruiter is using ATS software to filter candidates, a recruiter will not even be aware of your CV. If you are unsure, ask a friend or family member to read your document as well.
Pro tip: Ensure you apply the same format throughout. Do not start with one font and finish with another. Your application document must be seamless. A slight mistake can be detrimental.
Key Takeaways for Curriculum Vitae and Resume
Now that we have cleared the heated debate between a CV and a resume, here are the key points to takeaway:
Choose the right format. Base your decision upon your personal experience, the industry, role and ambitions you have. There are 3 main CV formats to remember. Chronological CV, Functional CV and Combination CV. Try all three formats before making a final decision.
Keep in mind the ATS software. In 2021, you are no longer addressing yourself to a human. The computer also plays a key role. More recruiters are using employment software to fine tune the offers before reading a single CV. Accustom your CV for those changes.
Pick the right information for the job description. Remember, you must please the recruiter to get the role. Tailor your CV to match the desires outlined in the job advert. Do not impose your style for any application. Click here for tips to make the perfect CV in 2021.
Still have questions unanswered for the difference between a resume and a CV?
Not sure which one is right for you? Then please get in touch here. We would love to help you reach your dream career.